Ho Ho Ho! Unleash the Guide to Holiday Sales and Leads with Your Social Media and Video Magic
The holiday season is here, and with it comes a golden opportunity to boost your sales and generate new leads. But amidst the gift-shopping madness, festive decorations, and family gatherings, how can you ensure your business doesn't get lost in the crowd?
Welcome to your guide to holiday sales and leads, where we'll unveil the secrets to making your business jingle all the way to the bank with the help of social media and video content and bonus strategies too! So, grab your eggnog, put on your Santa hat, and get ready for a sleigh ride through the world of holiday marketing. We're about to transform your business into a holiday sales superstar!
Statistically Speaking: Social Media's Sales-Boosting Prowess
According to a recent study, 57% of consumers are influenced by social media when making a purchase decision.
Social media marketing campaigns generate leads at a rate of 61% higher than traditional marketing methods.
Businesses that actively engage with their followers on social media see a 22% increase in sales.
These numbers speak volumes about the potential of social media to drive sales and conversions. But how do you harness this power to your advantage? This ultimate guide to holiday sales and leads can be your answer!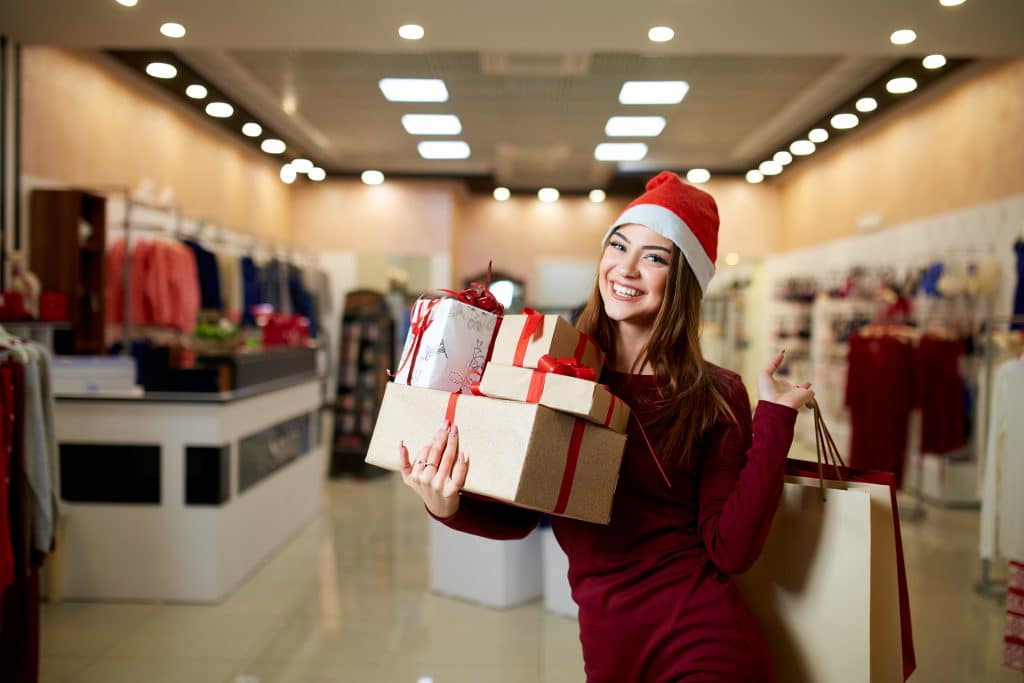 Crafting Captivating Social Media Content this Holiday: A Recipe for Success
1. Create a festive social media presence:
Update your profile and cover photos with holiday-themed visuals.
Use festive hashtags in your posts, such as #holidayseason, #giftshop, and #happyholidays.
Decorate your social media pages with holiday-themed décor, like twinkling lights or festive emojis.
2. Share holiday-themed content:
Post images and videos of your products or services in a holiday setting.
Share gift guides and shopping inspiration for your followers.
Create holiday-themed quizzes, polls, and contests to engage your audience.
3. Run holiday giveaways:
Offer prizes that are relevant to your target audience, such as gift cards, products, or experiences.
Promote your giveaways on your social media channels and website.
Encourage participants to share your giveaway with their friends and followers to increase reach.
Video Content: The Ultimate Sales and Lead Magnet
Video is the king of online content, and for good reason. It's engaging, informative, and shareable, making it a powerful tool for generating sales and leads.
Here are some video examples and tips:
1. Create a gift guide video:
Showcase your products or services as gift ideas for different occasions, such as Christmas stocking stuffers, or New Year's Eve party favors.
Use a friendly and engaging tone, and highlight the unique features and benefits of your products.
Example: Body Shop
We have a complimentary 15-min discovery call if you need tips and advice on how you can improve your brand presence using video.
Brand Examples of Holiday Marketing Excellence in the Middle East
Emirates: Emirates' heartwarming holiday campaigns consistently evoke a sense of nostalgia and family togetherness, resonating deeply with their Middle Eastern audience.
Majid Al Futtaim: Majid Al Futtaim's holiday campaigns are known for their vibrant visuals and cultural sensitivity, effectively capturing the festive spirit of the region. Mall of The Emirates had a Christmas Village pop-up near Ski Dubai
Emaar: Emaar's holiday campaigns are grand and awe-inspiring, showcasing the grandeur of Dubai and creating a sense of wonder and excitement for the new year celebration.
To boost sales during the holiday season, consider implementing some out-of-the-box strategies that go beyond traditional marketing tactics:
Partner with influencers: Collaborate with local social media influencers who align with your brand's values and target audience. Let them showcase your products or services in their authentic style, reaching a wider audience and building trust with potential customers.
Create a personalized gifting experience: Offer gift wrapping services, personalized gift notes, or custom product packages to make your offerings more appealing and memorable. This adds a touch of thoughtfulness and elevates the gifting experience for your customers.
Host virtual events or workshops: Engage your audience and promote your products or services through interactive online events or workshops. Share your expertise, offer discounts or exclusive deals during the events, and create a sense of community among your customers.
Gamify your marketing efforts: Incorporate gamification elements into your social media campaigns or website to make the shopping experience more engaging. Reward customers for completing actions like sharing your posts, leaving reviews, or referring friends.
Offer limited-edition holiday products or bundles: Create a sense of urgency and excitement by offering limited-edition products or bundles specifically for the holiday season. This strategy appeals to customers who want unique and exclusive offerings.
Partner with local businesses: Collaborate with complementary businesses in your area to cross-promote products or services. Offer joint discounts, host joint events, or create exclusive bundles to reach a wider audience and tap into new customer segments.
Embrace user-generated content: Encourage customers to create and share their own content using your products or services. Feature their posts on your social media channels, run contests around user-generated content, and leverage the power of authentic customer testimonials.
Personalize your email marketing: Segment your email list and send personalized messages based on purchase history, preferences, or demographics. Offer targeted discounts, product recommendations, or exclusive content to increase the relevance and effectiveness of your email campaigns.
Optimize your website for holiday traffic: Ensure your website is mobile-friendly, loads quickly, and provides a seamless user experience. Highlight your holiday promotions prominently, make it easy for customers to find gift guides or curated collections, and offer convenient payment options.
Remember, social media and video marketing are not just about selling products; they're about connecting with your audience on a personal level. Build relationships, share meaningful content, and let your brand's unique personality shine through.
So, go forth, fellow business owners, and conquer the holiday marketing season with the power of social media and video. I hope this guide to holiday sales and leads has helped you!
Let your creativity run wild, engage your audience, and watch as your sales and leads skyrocket! Contact us to help you craft that festive holiday content!
Happy holidays and successful marketing!